Our Cromartie family is fortunate to not only have a colorful history in the development of Colonial America but they have been blessed with ancestors that had a penchant for keeping family records and passing them along to succeeding generations of Cromarties. Our old family bibles, marriage certificates, census reports, wills, death certificates, and verbal histories passed down from generation to generation have provided us with a patchwork of Cromartie history that has survived for centuries.
From one of those 18th century Cromartie bibles, in Job 8:10, one can find the verse.... "But those who came before us will teach you. They will teach you from the wisdom of former generations." We have learned much from the wisdom and records of our ancestors and are now entrusted with the responsibility of continuing to maintain and record our Cromartie genealogy for all of the lineal descendents that will come after us.
Our Scottish immigrant grandfather, William Cromartie arrived from Orkney, in the mid-18th Century to settle up the Cape Fear River near Wilmington, North Carolina. Following the death of his first wife, their only son, William left North Carolina for India. William and his second wife, Ruhamah Doane (a fifth generation descendant of Mayflower passenger, Stephen Hopkins) had twelve children. Those twelve children are the founders of the American branch of the Cromartie Family.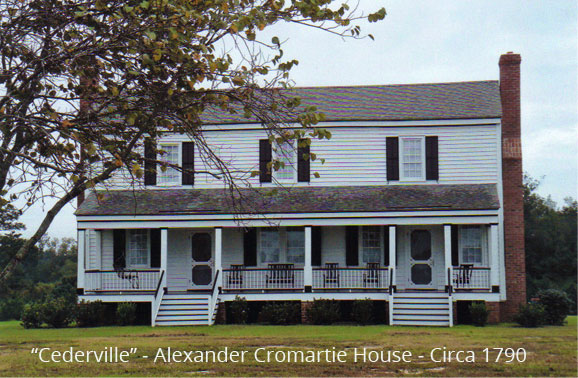 While other collective work has been published on Cromartie genealogy, today's internet technology has enhanced both our resources and the scope from which to draw information. Our Cromartie Family Association Genealogist, Amanda Cook Gilbert has spent many years and thousands of hours researching and compiling the most complete work of Cromartie history ever put into print. With contributions from other Genealogy Committee members, the Ancestors & Descendants of WILLIAM CROMARTIE & RUHAMAH DOANE in America was published in 2013. This four-volume, softback publication covers the ancestors and descendants of William Cromartie and Ruhamah Doane, and includes those of the related families of Anders, Bannerman, Currie, Hendry and Johnson along with indexes and footnoted sources.

 Ordering information is available on the Members/Shop tab.